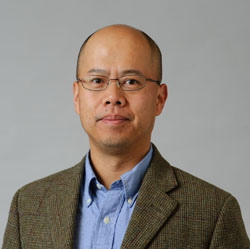 Yao Lin is a Professor of Chemistry Department and Polymer Program at the Institute of Materials Science at University of Connecticut. He received his Ph.D. in Polymer Science and Engineering from University of Massachusetts, Amherst in 2005. After completing his George W. Beadle postdoctoral fellowship at the Argonne National Laboratory and the University of Chicago in the field of biosciences and chemistry, he joined the UConn faculty in late 2008. He took a sabbatical at the Institute of Complex Molecular Systems at Eindhoven University of Technology in 2015 and 2021.  
Polymer and Chemistry Faculty
Email: yao.lin@uconn.edu
Phone: (860) 486-8969
Fax: (860) 486-4745
Office: SCI1 MZ 220
Lab: SCI1 2021, 2022.
Mailing address:
Science 1 Research Center
25 King Hill Road
University of Connecticut
Storrs, CT 06269-3136